My last entry discussed how investment asset classes and sub-classes go through long term upward or downward trends called secular cycles. Within a secular bear market like we are currently experiencing now in the stock market, there are two key characteristics you need to understand and accept to be able to effectively navigate through this market environment. I appropriately call these characteristics "The Two V's." In this entry, I will discuss the first predominant characteristic: Volatility.
A secular bear cycle typically results in flat cumulative returns when you look at the market indices levels from beginning to end. However the path of a secular bear cycle isn't in the least bit smooth and subtle. Secular bear markets are roller coaster rides with extreme levels of upside and downside volatility. Below is a chart depicting how the Dow Jones Industrial Average fluctuated during our last full secular bear cycle, which occurred from 1965 to 1981: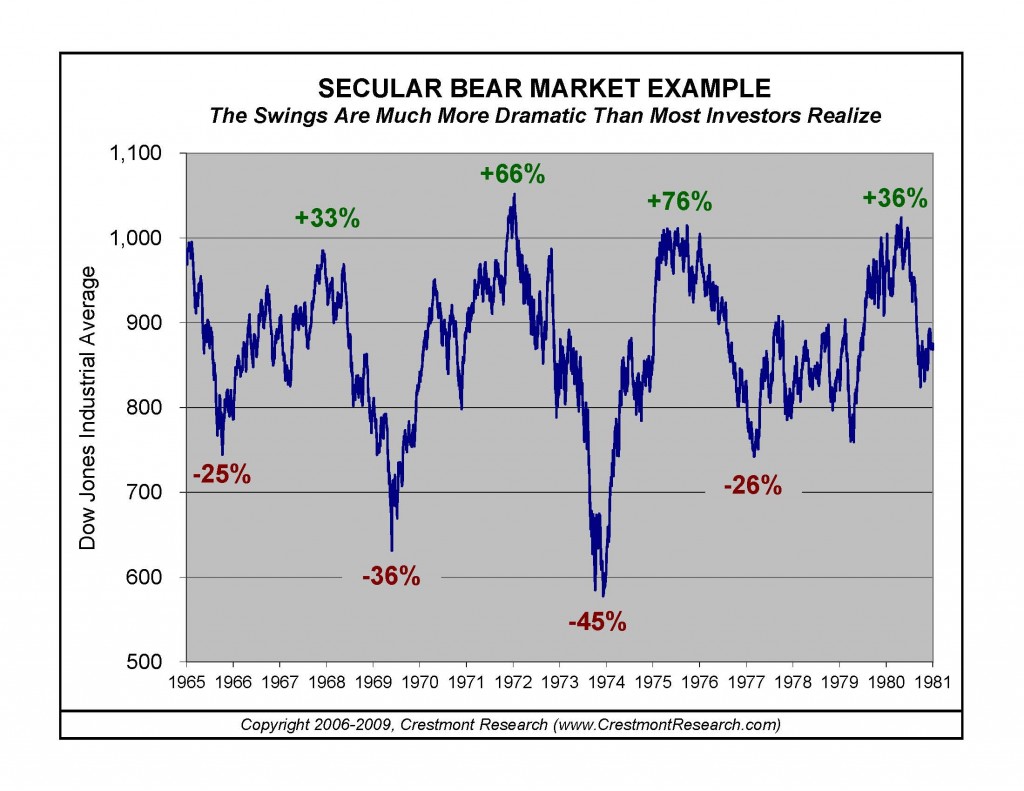 Graph Copyright ©2012, www.CrestmontResearch.com
The market action of the last secular bear market is eerily similar to the current one. The cyclical bear markets with the greatest drops in this chart could easily been mistaken for 2001-2002 and 2008-2009. The largest cyclical bull runs that followed are similar to what we experienced in late 2002-2007 and early 2009 to early last spring. I'm not suggesting that the current secular bear market will pan out exactly like the one depicted above as each secular cycle will have its unique course of action. But I would continue to expect similar market action over the course of the cycle.
The main takeaway from this is that volatility is normal market behavior in this type of regime. The more than you are able to understand and accept this, the more you can use volatility to your advantage rather than falling victim to it. In my next entry, I will discuss the second of "The Two V's."